An

environmentally

friendly

design
Join the Sustainable Digital World with centron's Environmentally-Friendly Design
At centron, we want to shape and promote a sustainable digital world. That's why we designed our data center according to the highest ecological standards and use 100 percent green electricity.
IT

from

centron

is

green

IT.
We guarantee this through regular recertification of our environmental management system according to ISO 14001.
100% green electricity
We operate our centron data center including air conditioning, lighting and connected office space exclusively with green electricity.
Cold/hot aisle containment
Our cold/hot aisle containment provides highly efficient cooling by physically preventing the mixing of hot and cold air.
Highly efficient branded hardware
In our data center, we only use highly efficient branded hardware that further reduces energy consumption.
Outdoor air cooling
Thanks to efficient cooling with outside air, 95% of our data center does not require active cooling, thus reducing CO2 emissions.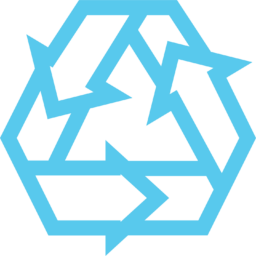 Recycling
A professional service provider recycles our end-of-life systems and feeds valuable resources such as precious metals back into the value chain.
Ultra-efficient

hardware

and

software
Our data centers utilize the most modern, energy-efficient hardware. Low-power processors deliver performance and help eliminate excess heat, thus requiring less energy.
Our own software stack built around Linux allows us to deliver optimal performance at high loads and reduce the overall number of servers at the same time.
Similarly, virtualization enables us to replace dedicated servers with more-energy-efficient virtual servers. Containers reduce redundancy on the operating system kernel, allowing for more scalability during peak load times.
Since cooling requires a considerable amount of electricity, we're always looking for new ways to become more energy-efficient.
This includes using data science and machine learning for more optimal cooling and the integration of newer technologies like adiabatic, or evaporative, cooling.
Our

sustainable

initiatives
From remote working to recycling old hardware, we encourage our employees to do their part.
Business trips
When traveling is a must, train is preferred. We also encourage carpooling, offer subsidies for employees who cycle to work, and provide dedicated parking for electric vehicles.

Remote work
All our energy-efficient offices are equipped for high-end video conferencing and virtual meetings. This ensures cross-country collaboration — without the need for cross-country travel.

Recycling
Once our servers have reached the end of their service life, they are recycled and disposed of appropriately. In 2021, the centron recycled 124.1 tons of hardware, reducing our CO₂ footprint by over 226 tons. Employees are also encouraged to play their part by recycling at work.

Most

sustainable

products