Simply great: cloud backup with centron S3 and Iperius Backup


Introduce yourself. You come into the office on Monday morning, grab a quick cup of coffee from the kitchen and want to start the day full of energy. But after your computer boots, comes the moment of shock. All your data is gone and you pick up your phone, drenched in sweat, to call your IT department.


Regardless of whether it is due to hacker attacks, hardware failure or simply due to negligence: data loss is a matter of course companies on the agenda. In the best case, the work is over for several days or weeks. If essential or customer data is affected, the extent of the data loss can range from financial losses to massive image damage. In many scenarios, regular data backups are even required by law. Organizations of all sizes are therefore well advised to ensure daily backups.

So that you can remain relaxed in situations such as those mentioned at the beginning, in this blog post we will show you a simple and inexpensive method of backing up your data conveniently and in accordance with the highest security standards in the cloud. All you need is the data backup software Iperius Backup (from €29) and centron S3 Storage (from €0.035 per GB per month).

Iperius Backup
centron S3 Storage


With Iperius Backup and centron S3 you can back up individual files or folders on your online Storage, but also backups of virtual machines (e.g. ESXi or Hyper-V), databases (e.g. SQL Server or MySQL) and Exchange mail servers – highly secure and fully automated.

First add the folders you want to back up: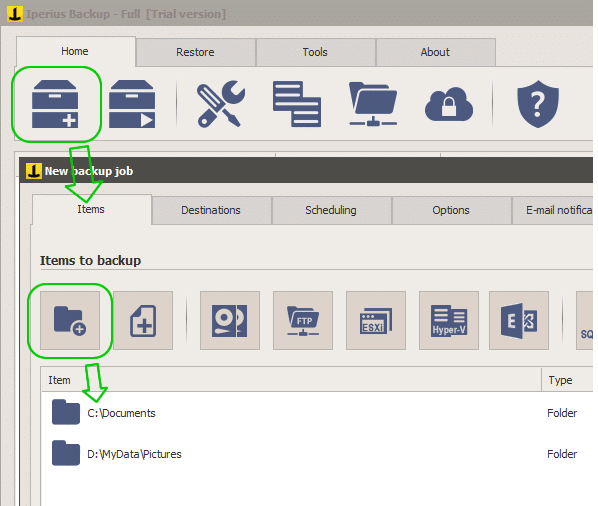 You can include any folders you want, as well as configure mail backups (similar to Outlook by selecting the folders that contain your .pst files).

Under "Items" add backups of virtual machines, disk images, databases or Exchange mail servers.

In the next tab "Destinations" enter exactly "centron Storage S3" as the destination. Please note that you must have booked a centron storage package for this step. You will receive the access data from centron support.

First, click the button in the image below:
Then add a generic S3 account by entering the credentials you received from centron support: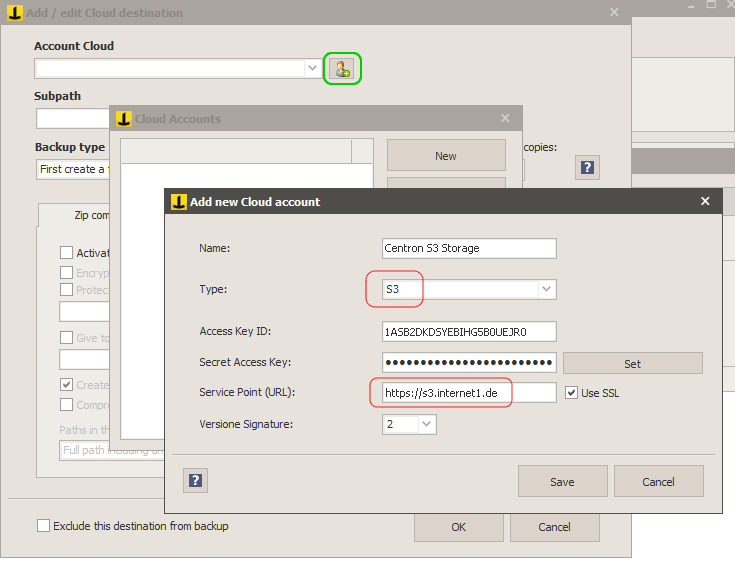 Add an account by clicking the button highlighted in the image above. Then select New from the list of accounts. Enter a unique and descriptive name, then select "S3" in the "type" drop-down menu and enter the Service Point URL, username and password provided by centron. Finally, enable the SSL option and set the signature version to 2.

Click "Save" to validate the account and add it to the list.
Now close the Account window and go back to the Destination window:
In the Destination window you can configure various parameters. First select the cloud account to copy the files to. Note: The image shows only the account you just created, but in principle there can be more than one account in the list. Then enter a unique "Bucket Name", optionally a subfolder, a backup type (full, differential, incremental backup) and the number of copies to keep.

Before the transfer, you can choose to enable compression and AES 256-bit encryption. This option adds an extra layer of security to the HTTPS protocol that is used to transfer files to centron S3 Storage by default.

Iperius Backup also offers you the possibility of full synchronization of data. The software also removes files from the online backup that are no longer in the source folders. This creates a backup copy that is always completely identical to the original (mirror image).

Once you are happy with your configuration, save the backup destination by clicking OK. Continue with other backup options. For example, use Schedule to specify which days and times backups should be performed. Of course, you can always perform backups manually:
With centron S3 Storage, you get highly secure online storage space in just a few steps to protect your data against cybercriminals and physical loss in an ISO 27001-certified environment. Iperius Backup adds to this infrastructure extreme configuration flexibility and another layer of security with client-side AES 256-bit encryption. This allows users to enjoy maximum security and convenience when backing up their data.

In addition, Iperius has an integrated ransomware protection that can be activated via the general options and protects backups from unwanted overwriting if the source system has been compromised.

Data recovery and downloading can be easily carried out using the dedicated Iperius function or with any free or commercial S3 client.


About Iperius Backup

Iperius Backup is a flexible and affordable solution to protect Windows clients. The software allows you to create unlimited backup operations to store files on FTP servers, in the cloud or on any data storage peripheral. Iperius is an extremely stable piece of software that handles its tasks in the background without affecting the user's workflow. Numerous features such as synchronization, compression, network authentication, installation as a service and email notifications make Iperius Backup the ultimate data backup solution. Thanks to the perpetual license (no renewal costs), comprehensive support and free updates, Iperius is one of the most convenient and long-lasting backup solutions on the market.